It's remarkable how many different variations of semiconductor probing stations and probing capabilities are available today, but many new engineers and operators have common questions that go unanswered when they are searching for a product.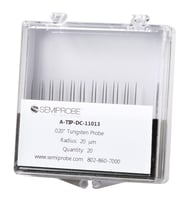 Probe needles are an integral part of semiconductor probing stations, and there are a variety of different probe needles available in today's industry.
So….what are probe needles? Probe needles, also known as probe tips or needle probes, are provided in a variety of materials, lengths, shapes and tip radius. They are typically inserted into a single probe arm mounted to a manipulator. Probe needles directly contact the device under test.
Regardless of what your application requirements are, the right type of probe tip is out there. Below is a list of some of the most commonly asked for probe tip capabilities: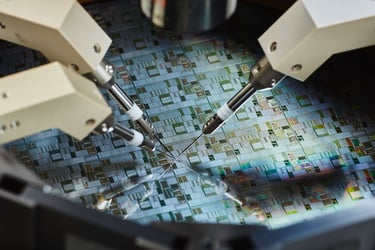 Low resistance
Low current
High Power
High Frequency
Durability
High temperature
Low temperature
Many more!
SemiProbe provides a large selection of probe tips. Our probe tips are made out of four different types of materials:
Tungsten
Gold Plated Tungsten
Tungsten Carbide
Beryllium Copper
Most are sold in a box of 20 and are made from a straight solid tungsten 20 mil wire tapered to a desired radius. The overall length of the probe tip is approximately 37 mm (1.5"). Tungsten is often used because it is durable.
If you like this blog, join our email list or contact us for more information!