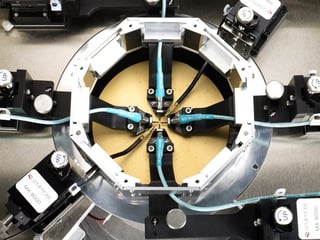 What is a thermal shock chamber?
A thermal shock chamber is a chamber primarily used to test wafers at hot and cold temperatures. A thermal shock chamber, also referred to as thermal test chamber, temperature chamber, thermal chamber, environmental chamber or localized environmental chamber (LEC), is primarily used to provide a frost-free, light-free and EMI free environment for the device under test (DUT).
For the remainder of the article, I'll be refferring to the thermal shock chamber as an LEC.
LEC's are often designed to be low profile and small to allow users to get to the desired temperature faster. For most wafer probing applications, the temperatures usually range from 60 C to 200 C. Other common temperature ranges are -40 C to 200 C. It is also not uncommon to probe at temperatures that range from -60 C to 300 C.
Testing at elevated temperatures ambient to 200 C is often much easier in comparison to testing from -60 C to 200 C. Testing at lower temperatures requires a thermal chuck that has a cooling source – a refrigerant, nitorgen or clean dry air (CDA). The LEC needs to be sealed up to prevent ambient air from entering the chamber. To aid in preventing the device under test from frosting, a certain amount of CDA or nitrogen is pumped into the chamber to generate a positive pressure. The amount of CDA or nitrogen is regulated and the flow can be increased or decreased when required.
Probing wafers in a chambered system is more challenging than probing wafers in a non-chambered system due to the covers required to seal the chamber. Inserting probe arms into the chamber side and optics through the top requires some sealing materials to prevent ambient temperature from entering the chamber. Chambered systems often restrict some of the mechanical movements of the manipulators or travel range of the microscope movement.
A chambered system with a thermal chuck providing cold and hot probing capabilities adds quite a bit of cost to the probe system. In most cases they have to be ordered with the probe system.
For more information on thermal shock chambers and LEC's, request a discovery call and someone from the SemiProbe team will be in touch shortly.