Customer Device Characterization Requirements:
A highly configurable 200 mm semiautomatic device characterization probe system that would interface to a Keysight B1500 and controlled via their EasyExpert software. The probe system had to operate from -60 to 200 C, providing the ability to make multiple types of measurements – low leakage, low capacitance, low voltage, and low resistance as well as high frequency.
High magnification optics to see features in the micron range were required as well as a family of manual and programmable manipulators manufactured by SemiProbe and Imina Technologies to contact pads and sub-micron features.
SemiProbe Device Characterization Solution:
Key Device Characterization System Components:
Built using SemiProbe' s patented Probe System for Life (PS4L) Adaptive Architecture consisting of:
A TMC vibration isolation table (VIT) with casters, leveling feet and adjustable keyboard/monitor rack
A 200 mm programmable X, Y,Z, and Theta stage with control electronics
A 200 mm, gold plated triaxial thermal chuck with vacuum holes that operates from -60 C to 200 C that is mounted to a large travel load-stroke for easy device loading and unloading
A localized environmental chamber (LEC) with top hat to provide frost-free, dark and EMI shielding
A linear platen lift that provides course and fine platen movement in Z
A large aluminum platen with stainless steel skin that has a removable front wedge. Platen allows manipulators to be placed anywhere around the platen opening.
A second and recessed platen for the addition of multiple Imina Technologies miBot nanopositioners
A compound microscope bridge with a 50 mm x 50 mm x 80 mm X, Y and Z travel
Compound Microscope with 2x, 10x, 20x, 50x and 100x objectives
A CCTV System consisting of a color camera, color monitor, c-mount camera adapter, and cables
PC/Monitor, GPIB, and PILOT Software Suite (Navigator, Wafer Map, Autoalign)
Four (4) programmable three-axis (X,Y, Z) manipulators with coaxial and triaxial probe arms
Four (4) manual manipulators with coaxial, triaxial, and Kelvin probe arms
One (1) manual manipulator with contact sense probe
Assorted boxes of tungsten probe tips (12.5 um, 7 um, 1 um, and 0.1 um radius)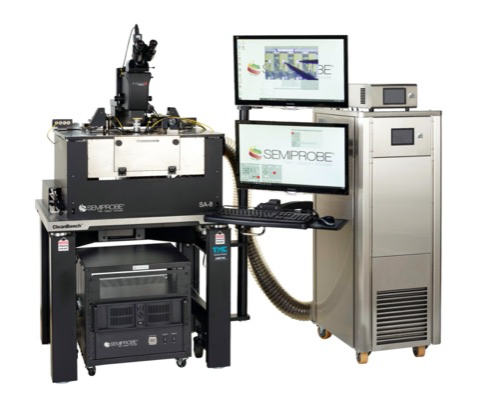 Semiautomatic 200 mm Device Characterization Prober System configured with manual and programmable manipulators, a localized environmental chamber, and a thermal chuck system that operates from -60 C to 200 C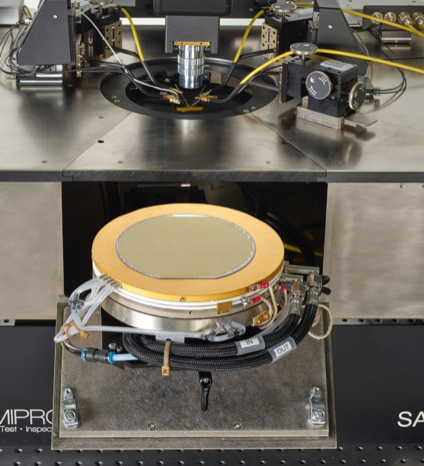 Localized Environmental Chamber (LEC) with triaxial thermal chuck in the load position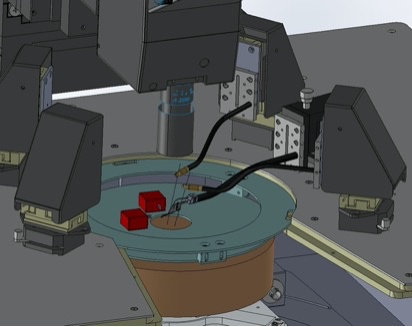 Manual, Programmable, and Imina miBot nanopositioners integrated into a single probing platform