Success Story -

USA
When a major defense contractor needed a custom platform to test advanced optoelectronic components, the PS4L (Probe System for Life) provided a perfect solution. Able to combine SemiProbe's traditional probing accessories with industry standard optical test components, SemiProbe was able to create a custom test platform for this customer quickly and at prices more in line with standard equipment rather than the custom approaches taken by competitors.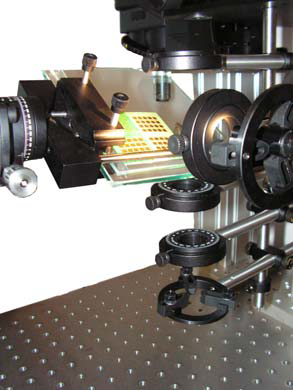 Customized Optoelectronic Manual Probing Solution
A unique glass chuck was created to hold the devices which needed to be exposed to laser light. Additionally, this exposure needed to be conditioned with a variety of filters for the different tests needed for characterization. As a result of this sale, the customer was happy enough to subsequently purchase a semiautomatic system a few months later.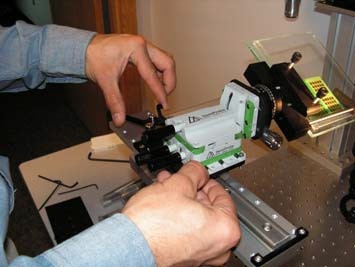 Customized device holder with rotating fixture to allow for laser light patch adjustment
The Patented Probe System for Life (PS4L) is the most modular Probing system on the market. The customer has many ways to configure systems to meet their application and budget. The PS4L platform was designed to provide a perpetual field upgrade path.